Return of La Belle Jardinière
(Homage to Women)

Part landscape, part female body and part architecture, these cast objects are an homage to Max Ernst's The Return of La Belle Jardinière (1967). The Green Life, Group Show participation, LMAK Gallery
New York
March 27, 2019 - June 9, 2019.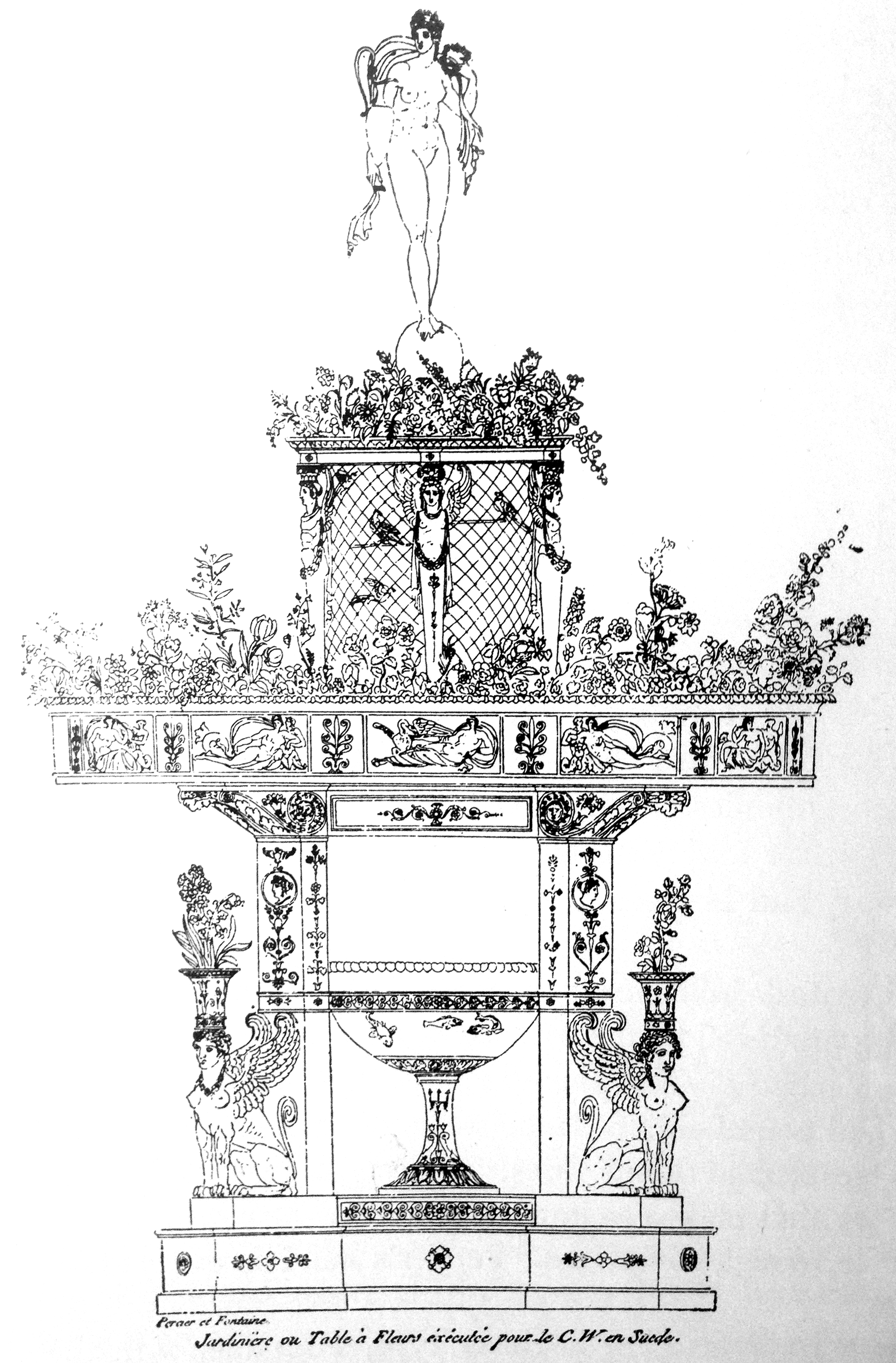 Inconspicuously situated between landscape and architecture is the jardinière or planter; it is an overlooked typology, yet it is a ubiquitous form throughout art and architecture imagery.
A crossover between landscape, interior furniture and small pavilion,
in the 19th century la jardinière expresses the anxiety to "annihilate space"
as the historian Siegfried Gideon points out. For Gideon jardinieres are a "gentle unreal play of dream elements that the eye delights to follow- as irrational as the sphinxes tails, curling into arabesques that sprout a thin stem balancing a vase."

Throughout the history of art, garden imagery has alluded to the female gardener, the "jardinière". She is often depicted as Madonna in the iconographical tradition of the Virgin as a fertile, enclosed garden and associated with certain flowers. This idea of the jardinière is also objectified in a vessel carrying plants.
The jardinieres in these series allude to architectures, landscapes and female body parts: knees, thighs, fortifications, breasts, grottos, caves, elbows, roofs, buttocks, mountains, glutes, domes, ruins...Just as a traditional jardiniere they can stand for themselves as objects and be utilized as vessels for plants.

They are planted with Mother of Thousands, a succulent that produces vegetatively in large numbers by creating small off springs on her leaves. The babies start growing roots and photosynthesizing before they reach the earth. Because of this she has the ability to behave as a weed dominating and crowding out other species that have less efficient means of propagation.
Storefront Souvenir:
Exploded Fortress of Solitude
Commision by the Storefront for Art and Architecture for the exhibition




Exhibition Text:


"First Stop South Bronx. These buildings do bear an amazing resemblance to the buttes of Utah. And it is wonderful how things have sped up. When the condemned structures are dynamited, I can see in a few minutes the erosion that in nature would take countless eons. The sight is indeed awe-inspiring."
—Mike Kelley






Approaching the long narrow strait of the south Bronx a solitary fortress emerges in the horizon. Attracting visitors from Manhattan or coming from the nearby Randall's island Art Fair, passing boats in the waters of Bronx Kills dock momentarily to admire the magnificent view. In Port Morris, the resident artist community enjoys this new dramatic scenery. There, it is, the large printing facility of New York Post where it once constructed stories, myths and other facts. Years of misinformation have formed thick layers over the surface of actual events.

12,000 tons of waste were routed to the South Bronx, at a rate of 2-3 trucks per minute to be dispersed in the numerous recycling facilities nearby. Construction debris, concrete, dirt, brick, rocks, asphalt. One day they started to slowly pile up on top of the Post. Soon, other local waste followed. Nearby oil refineries joined in and even the brewery. The press stopped printing. Fermentation and molding ensued. This fortress is now in a state of erosion. Crushed slabs, sand and stone and even demolished monuments.

Developer plans for the waterfront and renaming the area the Piano District are scrapped. The nearby film studio is shooting new Westerns. As floods increase the mount becomes a refuge. While everyone is lamenting the loss of the Village Voice, this new composite taking over the Post is sparking joy throughout the City.



Team: Lydia Xynogala, Clara Dykstra



À Rebours Bed
against the grain, contrasting plywood grains with ledge
Stationary Stationery
A collection of concrete objects for desks, too heavy for anything else, they remain stationary.

Majestic Cabinet
Entry concept for an Art collector's apartment at the Majestic on Central Park West


In Progress
Aggregates Amalgams Allotropes: Composite Bronx
Research and Advanced Design Studio taught at the
Spitzer School of Architecture,
The City College of New York and
published in A Public Space Magazine
What does it mean today to collect elements of nature? How can matter tell a story? history? And how can research create cultural artifacts?


aerial perspective Port Morris, South Bronx


COMPOSITE SITE: Port Morris in the Bronx is a composite neighborhood: industrial usage with artistic activity: art studios and recycling facilities; film studios and waste disposals; beer distilleries and the New York Post printers. Research and student proposals for this area explore its composite character.


Take Care!
Ongoing Research, more soon

Manhattan Schists and Schisms
(Rock Encounters Now and Then)
Research on Manhtattan's geological formations and their clash with the urban grid.
a part of this research is published in the journal Yale Paprica!




Future Fossils
Originally presented at the Society of Architectural Historians Annual Meeting, Detroit, 2012
Panel: Architectural Ecologies.

This photo essay examines rocky landscapes of the Americas that engage with architectural typologies of environmental hazard. The writing takes a fictional tour on two rocky sites: The Yucca mountain, the controversial potential site for deep storage of all US nuclear waste and Carlsbad, New Mexico, known locally as WIPP (Waste Isolation Pilot Plant) one of largest nuclear waste storage facilities with a license of 10,000 years.
The Dark Ecology of Magnitogorsk
Research published by Princeton University (2013):
an alternative landscape and architecture for the post-industrial wasteland.
read here

for more information
a territorial concept that typically conveys the unwanted, exhausted and useless.
Mining and industrial production have degraded eleven percent of the earth's soil. This project aims to rethink emerging ecologic strategies in remediation, the act of cleaning,and often the attempt (and anxiety) to erase the material traces of production. As a project it relies on the terrain of ambiguity; natural/manmade, clean/dirty, unwanted/desired are rejected polarities. This "messy whole" and its material, chemical and "natural" manifestations is embraced, revealing surprising architectural,urban and landscape potentials.

The testing ground is Magnitogorsk, City of Iron in the Russian Federation; The project engages the extremity of environmental degradation juxtaposed with the architectural promise of this city in the industrial age. Architecture and infrastructure are explored as time-based and chemically-induced operations. The design methodology recognizes potential and programmatic possibilities for cleaning but at the same time it engages with the material by-products as a new way of building.
For orders: info@alos.nyc

Also available at:
Published by: The Center for Architecture, Urbanism, Infrastructure, Princeton University, 2012. Distributed by: Island Press. Series Editor: Mario Gandelsonas.